My name is Andrea Ramsay and I am, well let's say a mature age rider. I own a clydieX called Harry Who? Harry was purchased as a 4 year old fairly green horse with fantastic temperament.
At the time I purchased Harry I was training with an international trainer who unfortunately decided to move overseas permanently to work. This left me with a hard decision to make, which trainer to chose.
I had a few criteria when looking for a new instructor, which were
A person who was competing successfully at a high level. (This is because I don't know enough to really know correct riding, and I needed the check of judges who do know what to look for)
Has pupils who are competing at a high level, and pupils who are progressing well.
Has trained more than one horse to a reasonably high level.
Gives clear, concise and easy to follow instructions.
Is continuing their training with international level coaches.
Charges an affordable rate so I can have frequent instruction.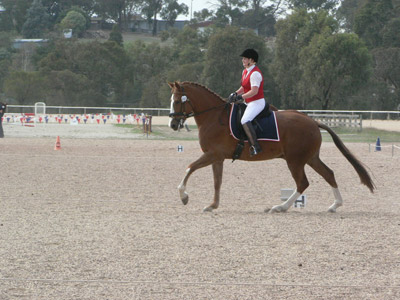 I found Anne through an international level instructor and have never looked back in my training. Anne fits all my above criteria and more. I always enjoy her lessons, I am quite dedicated to progressing so she does make me work hard, does not let me get away with sloppy work, but has great enthusiasm and encouragement when Harry and I get it right.
Harry and I have progressed so much already that I have increased my original goals to a much higher level than I started with. I also have show jumping lessons with another instructor, so for me to have someone who understands jumping and dressage is a big plus.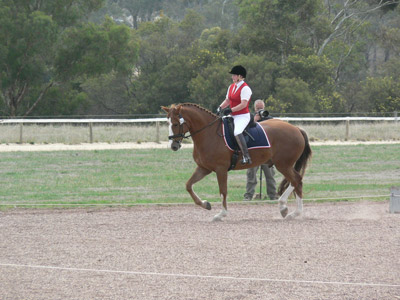 Competition results; Harry has placed at every event we have entered since training with Anne; here are a few 1st placings.
Ttt combined training level 3
Combined training level 2 (by a 14 points) at Yarrambat ARC
Combined training level 2 (the dressage section by 10 points) Wyena ARC
Combined training level 2 (by 10 points) southern c/t series SEDC ARC
Glenbrae Thursday series novice 2.2and2.3 (with very complementary comments from the judge)
I am very pleased with Andrea's progress she is working hard and is very dedicated. She has a lovely horse that shows a great deal of talent in the dressage field. Andrea's dedication even included having a lesson recently in our cold winter in 4 degrees one rainy morning!!
Andrea is currently in The Top Ten in Combined Training in HRCAV and I will keep you up to date with her progress in Competition Results on my website.
Keep up the good work Andrea.
Cheers Anne.