Emily came to me for lessons in 2007 she is now 12 years old and attends the local pony club.She rides in a group lesson with 3 other girls her own age once a week and attends my clinics. She rides Jim a nice schoolmaster I found for her in June 2008.
She has been a big help to me because when we were looking for a horse for her she helped me by schooling my school pony "Colours" in her lessons. This is what she has to say about her training with me.
Hi
I am Emily Rawlins.
And I am telling you what I like about horse riding is that you get to spend time with your horse, you get taught by the amazing Anne Leviston.
You also get to bond with your horse and you also get to learn new things like flying changes, half pass, pirouettes by watching Anne on Baron and heaps more stuff that is so cool. I love to just have that fresh hay warmth of the heat of the horse on my face.
I love all my horses I have ridden, Colours, Jim, Zena old Sera and Chester.
By Emily Jane Elizabeth Rawlins.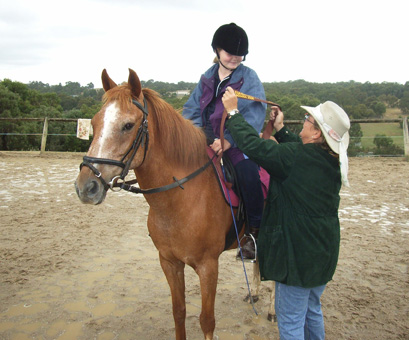 I will keep you up to date on how Emily and Jim are going.
Cheers, Anne