When I lost my trusty old QH gelding to colic I was devastated. It took me about 12 months to find another horse. I was very choosy; I am not the most experienced horse person so I didn't want a young or temperamental horse. Also I did not want a mare.
In came Holly – yes, a mare! She was everything I didn't want, but I knew she was the one. She was a 3yo green broken chestnut mare and as girly as they come. She also had no topline, was ewe necked – in fact very upside down – and only about 14.3hh.
So I had the horse, but now I needed some serious help. Step in Anne Leviston. Our first lessons were about learning ground manners. As Anne said "Why would you get on something you can't control on the ground?", and I had to agree, I was not intending on getting hurt.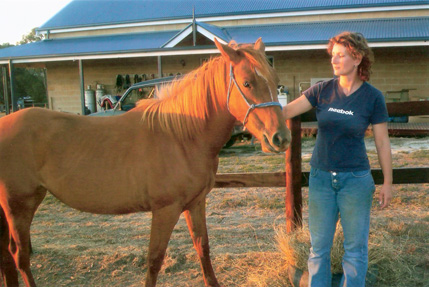 We started slowly, and fortunately for me Holly was a quick study. We soon had her backing up and moving over, staying where she was put, in her space, not mine. Then we moved on to lunging.
We both had to learn that one so it was a bit like the blind leading the blind, but thanks to Anne who made it all very easy, we were soon going in circles correctly. The most amazing thing started to happen. My upside down horse started to change shape. Her top line started to core up and the shape of her neck very slowly but surely started to alter. Her throat had been very muscled when I first got her – now it was disappearing and the top of her neck was beginning to muscle up. She also seemed to pick her feet up much better and had more spring in her step. I later learn't that was because she was using her hind legs more by bringing them under her better. All this I learnt was going to help her last longer as it was also strengthening her back muscles. What had been quite an ugly little horse, all be it with a pretty head, was turning into a beautiful little horse before my very eyes.
When I finally got on her back she was fabulous. After all that work on the lunge, her head was down, starting to work "on the bit". The only thing to change now was my saddle. I rode in a western saddle and I decided that if I wanted to teach this little horse properly I needed to change that so on went a dressage saddle . At first I thought I was sitting on a fence rail and felt very unstable but Holly seemed to like the new saddle sooo much better, she moved much more freely and I had to admit I could feel her movement so much better too. Now all I had to do was learn to ride in this strange saddle properly. Now not only was Anne trying to educate a young horse, but teaching me to ride properly at the same time. No small feat let me tell you! But under Anne's tutelage I, and consequently Holly, came together beautifully. My little up side down horse was looking sensational and (dare I say) I wasn't doing too badly either.
Since then we have come on leaps and bounds and after 18 months we entered our first show and placed 4th in our class. Wow!
Now we are also expanding both our horizons. We went horse riding in the bush with Anne and her young horse Orlando and Holly was superb. Hardly put a foot wrong although both horses had a bit of an issue with a bridge. We have also joined our local Macclesfield Adult Riding Club and are having a ball. All this experience is helping Holly to become a very happy, healthy, well balanced and rounded horse both mentally and physically. We still have our regular lessons with Anne as both Holly and I still have a long way to go in our education but through all this I have learnt a lot. Through Anne's method of teaching, I have a horse who respects me, that is as safe a horse as you can possibly have, who at times still says "help me Mum" or "I don't think I can" and even "I won't", but with firm but gentle and consistent guidance will try her utmost to give me what I want and do what I ask. We both still get a bit confused and we do get things wrong occasionally but together we are learning how to be the best "Horse and Rider" we can be.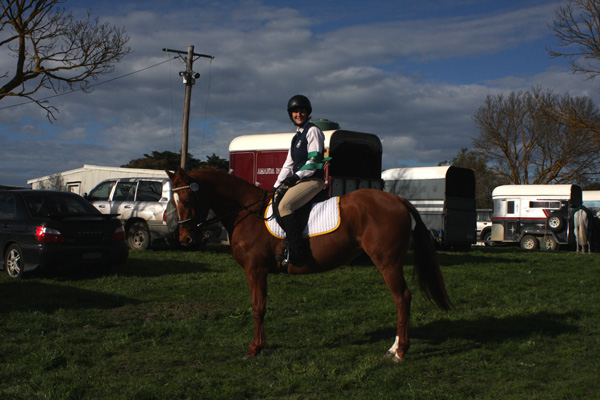 Thank you Anne, the only problem I now have is my 10 year old daughter Katherine, who also has lessons with Anne, has decided Holly will be perfect for her in a few years time when she needs a horse with a higher level of education than her wonderful little pony Jasper!
Sam.