Prior to meeting wife, Sue, I had only ridden a horse a few times as a child and young adult. Sue introduced me to pleasure riding which I really enjoyed, especially out on the trail in the Gembrook state forest.
We both joined the Gembrook Riding club several years ago and late in 2006 met Anne Leviston at one of the GRC rally days. Anne was fantastic so we decided to have a few lessons with her. Our intention was not to compete but just to hone our riding skill and improve our communication with our 2 beautiful young horses.
So in February 2007 we had our first lesson and have hardly missed a week since then! Anne was very worried about my riding ability at first; my balance was not very steady and falling off or coming unseated happened more than it should. Eventually, with Anne's insistence, we both ventured out to our first competition. The results were beyond both our expectations, with no small thanks to Anne's teaching!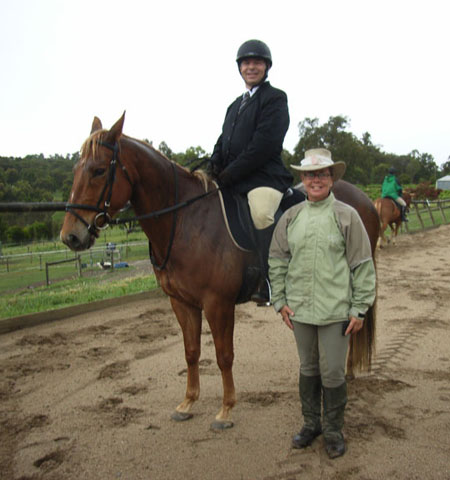 It was a stinking hot day in February at Day 1 of SEDC Summer Championships. I rode 2 grade 5 tests and to my absolute delight won one of them and actually placed 3rd overall. Well, that just whet my appetite for Dressage and I wanted more. So we resolved to ride in the SEDC Autumn series which was run over 3 months. Again the results were encouraging and after the 2nd month I pointed out of Grade 5 and had a commanding lead of the series. Unfortunately I was not able to ride on the 3rd and final day of the series due to Sandi having an abscess. But I still won overall and was presented with a lovely rosette and an embroidered rug. Sue is very jealous!
We bred our horses ourselves and they are Quarter Horse/Thoroughbred crosses. Sandi is 7 this year and Neon [who Sue rides] is 6.