Hi, my name is Kelly and this is my horse Pongo, aka CPH Thundercat. Pongo is a 16.1hh grey TB gelding rising 9yo. We are members of Macclesfield Pony Club and graded level 2. My main interest is eventing and I have been riding since I was quite young.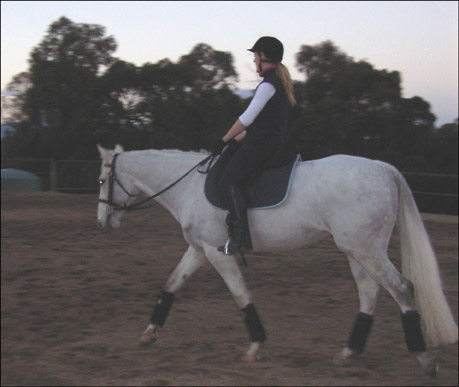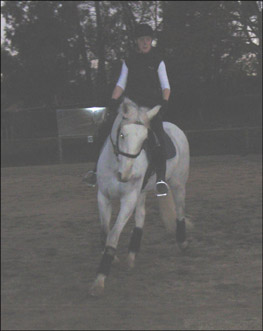 Anne came to teach at our rally in April. I found we worked and related very well with Anne's teaching and I have been having regular weekly lessons with Anne at Harlequin Equestrian Centre.
Pongo and I have started competing regularly at Grade 2 Dressage and Combined Training and also Preliminary Eventing. Hopefully moving to Pre-Novice this season. We have been consistently winning and placing with scores in the high 60% to 70% marks.
I have been delighted to help Kelly with her talented horse Pongo. She is a lovely young girl who is dedicated and works very hard at and between her lessons. We have started exercises towards Pongo's collection and Kelly is amazed with the different feels she is getting. Kelly and I get on so well and we have a lot of fun working hard together! I am looking forward to helping her achieve her goals.
Cheers Anne