This ad for Flash sums up all the hard work Sarah her Mum Nicole, and I did together over 4 years. Sarah a novice rider took Flash a naughty cheeky pony and made him the super star he is.
Needless to say the the 1st buyer bought him!!
We had an incredible journey together and I wish Sarah all the best for her future studies as a lawyer I am sure she will be excellent as she was a fantastic student!
Anne
Sarah started having weekly lessons with Anne in February 2006.
Her first competition was at Glenbrae Indoor Equestrian Centre organised by the Yarra Valley Veterinary Clinics and Equine Hospital Inter School Equestrian Series, held on 29th August 2006.
Sarah did two Dressage Tests. Her first test was Grade 5 test B and she scored 62 points. Her second test was Grade 5 Test C and she scored 48 points.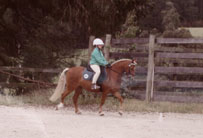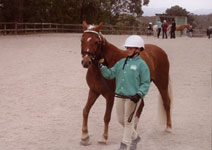 Sarah then went to the Gymkhana held at the same venue and by the same organisers, on 8th November 2006.
Sarah placed in Best Presented and came 4th, Led Mount and came 6th. Sarah also entered in Best Rider, Mount most suitable for Eventing, Pleasure Mount, Games and Handimount on the day.
Sarah started at Pony Club in October 2006. Sarah and her Pony fitted right in as Sarah had the knowledge and confidence from her lessons with Anne to be able to join in with any discipline.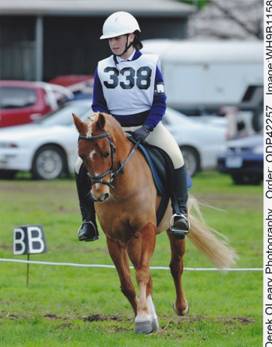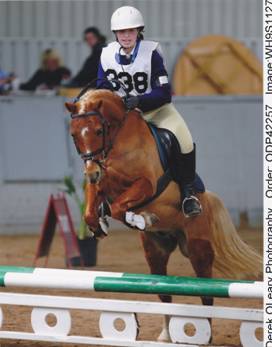 Harlequin Flash Will regretfully be available for sale in mid-September 2010. (Due to prior competition entries.)
Sadly his rider has outgrown him. Flash is a 12 year old, chestnut with flaxen tail and mane. 13hh easy to sfc and clip. He is a very fast learner and very easy to handle but will need an experienced confident rider.
He has done 4 years of pony club currently grade 3 dressage, grade 4 combined training and E grade show jumping. He qualified for State this year placing 2nd in our Zone for grade 3 dressage. He has won too many dressage competitions to mention and tests are available. He is a great all-rounder and enjoys eventing and always dose well at gymkhanas due to his stunning looks and movement.
He is EA registered and micro chipped.
Flash has just started competing prelim EA ready to go onto novice. His first outing he placed 1st at Saddle-up winter dressage series and is in the finals in September.
To a knowledgeable kind loving home only comes with Wintec 2000 all-purpose saddle, 2 bridles and many rugs. $15,000.00. Ph:0438 544 320
Competing here today at Werribee 1st Aug 2010