I have been a regular student of Anne's for about 8 years. Anne has helped me with many of my horses, throughout my time at Pony Club, Adult Riding Club and EFA.
My current horse, Ralphie, is a 15.1 hh Bay TB gelding. He was bred and trained to be a racehorse, but was deemed to be too slow to race, and was offered for sale at 4 years of age (2002). Anne helped me to teach him the basic dressage principles.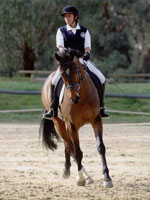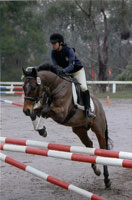 I have now competed with Ralphie at Level 2 HRCAV Dressage and Showjumping, and also in EFA Dressage. 2006 was a very successful year for us – Ralphie gained 12 points in EFA Dressage at Preliminary and Novice level, and we placed 4th overall in the BMW 5 Star Showjumping series (HRCAV).
Over the years I've also had the opportunity to work for Anne, learning stablehand duties and strapping at competitions and clinics. Ralphie and I are now living in NSW, working for Heath and Rozzie Ryan at the NSW Equestrian Centre – and everything that Anne has taught me has been a huge help for this role! Thanks Anne!!